Protecting Your Estate from Inflation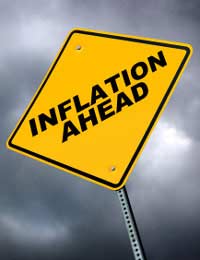 Inflation is in the headlines again, with both the Consumer Prices Index and the Retail Prices Index on the rise.
Many people ignore those very headlines, often because they do not understand how inflation affects them. But inflation is eating away at your estate every day. It is vital that you understand the impact of this, and that you take action to reduce it.
What is inflation?
Inflation is a uniquely unpopular economic phenomenon. Broadly speaking, inflation is a rise in the price of goods or services. The cost of pretty much everything trends generally upwards; you can see this particularly clearly by comparing the price of a loaf of bread today with the price of the same loaf 10 years ago.
The corollary of this is that the value of your assets will fall. This is particularly problematic for those who want to ensure that they maximise the value of their estate. You don't want your estate to be eaten away before your beneficiaries get any use from it – and this is why many people want to take action to reduce the impact of inflation.
How can I protect my cash?
There is a range of techniques that you can use to protect your estate from inflation. The techniques you choose will depend, in great part, on the nature of your estate. Techniques that work for certain types of asset will not work for others.
If your estate is made up mainly of cash (for example if you have money in bank accounts), you should think carefully about who you are entrusting with that money. Many so-called savings accounts are actually offering rates of interest that are below the rate of inflation – meaning the value of your estate is falling. Above all, you should make sure that this cash isn't just sitting in a current account, as this will be paying virtually no interest at all.
If, like many people, your home is the most valuable asset in your estate, you should consider different techniques. Primarily, you should be aware that it is the vagaries of the property market, rather than the dangers of inflation, that are most likely to eat away at the value of your home. Sadly of course, there is very little that you can do to control the property market.
You should, however, be wary of things like equity release. Although it might be useful to have some cash up front, you should remember that inflation will eat into this cash – and you don't want to be short in the event of a financial emergency, particularly after you retire.
Is inflation going to rise?
The short answer is: probably. Inflation has been trending upwards since the recession, and many analysts are concerned that the government's quantitative easing scheme will cause it to rise further.
Inflation rates have peaks and troughs. But, while it is very difficult to predict what will happen to inflation a few years down the line, you should be aware that it is already having an impact on your estate – and you should be prepared to take action to mitigate that impact.
You might also like...