Can Conditions Be Put Into Adult Children's Trust Funds?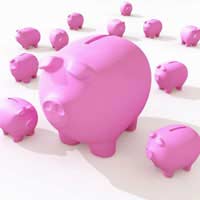 Q.
My mother has just died leaving the bulk of her estate equally to my wife and me. I want to make a Deed of Amendment whereby £50k is put in trust for each of our children to be used solely for house purchase - with my wife and myself as trustees.
Our solicitor says this cannot be done since all our children are adults (ages 22 and over) and we cannot control what they do with the trust funds. Is this correct?
Would the situation have been the same if my mother had made such a provision in her Will? If so, it seems iniquitous that her wish (and mine) that her bequest be prevented from being frittered away should not be respected regardless of the ages of the beneficiaries
(KS, 29 January 2009)
A.
First of all, I am sorry to hear about your mother's death.
In the first instance, I am unsure as to why you would want to accomplish this through a Deed of Amendment. As far as I can tell, the money has already been passed to you. Unless the probate process is ongoing, the money is yours to do with as you please. The only other reason could be that your mother established a trust in her will that makes provision for the money, in which case a Deed of Amendment would be required – but, from your question, this does not appear to be the case.
As such, I see no reason to prevent you from establishing a new trust for each of your children, into each of which you would place £50k. If the money is currently yours you would act as settlor, and could probably also act as trustees although you may also consider appointing professional trustees in order to avoid potential concerns about your fiduciary duty. You could achieve your aims in a number of ways; the most obvious would be to establish a fixed trust, whereby conditions are written into the trust instrument. The problem, however, would be wording the conditions in such a way as to allow your children access to the funds when they required them; fixed trusts usually simply pay out when an individual (normally a minor) reaches a certain age.
Spendthrift trusts are becoming ever more popular in the United States; these are designed to safeguard money in the interests of beneficiaries who are, in the view of the settlor, incapable of managing their own money. The trustees decide when the money will be paid out, although it is implied that this may only be done in the interests of the beneficiary. It is usually also possible to establish such a trust under UK law, although you should seek advice from a solicitor as this is still fairly unusual practice in the UK.
All this being said, your circumstances are still somewhat unclear, for the reasons given above. As such, you should definitely seek a second legal opinion, preferably from an expert in trust law. They will be able to advise you on your specific needs, although I see no immediate reason why your goals cannot be attained.
You might also like...
Hi, can you help. my father was killed in a road accident in October 1966. My grandfather always told me that there was a trust fund set up for me and my two sisters. as yet I have been unable to find out where this trust is. My understanding is that the funds were awarded as the result of a court case into his death, the result of a Hit and Run. Any help you can give me with this would be greatly appreciated.
Hi its my daughters 18th birthday shortly and I was wanting to seek some information on who her trust fund is with . The reason I don't know is that recently I divorced and I am not on the best of speaking terms with her mother and I just wanted to find out this info for my own knowledge. I would be grateful for any help.
razzle
- 13-Jul-20 @ 10:10 AM
My motherpassed away lin 2016. Leaving the her estate to me and making it clear to all my siblings that theywould gain nothing from her when she died. I have five siblings all older than myself. Four of them own their properties . And have been able to hold down full time jobs. In 2017 one of my siblings cut down her working hours, due to ill health and is now taking me to court for funds claiming my mother did not make provision forher in her adult life . She is now 64 . Lives in her ownin a four bedroom house with a granny flat. She is currently paying an interest only mortgage and will no way pay off what she owes on retirement. Getting to the point,why is lthe likely hood of a judge over turning my mum's will and final wishes . And what is the purpose os someone making a will if others can challenge it when they die
Dee
- 31-Aug-18 @ 6:03 AM
Mt Mother set up a private trustfund for my eldest child, unfortunately she did not get around to passing all the details to me before she died and there is nothing in her will that indicates anything.I am not sure how to go about locating this trust fund but know she used to bank with the Royal Bank of Scotland.Would it be worth me asking there?I have all her details and my eldest childs details.
Racheal
- 29-Jul-18 @ 4:00 PM
I have a child that recieved money in a lawsuit that involved my son. At the time this happen my mother had temporary custody of my child. My mom had an attorny put the money into a trust fund and can not touch it till my child turns 18. My mom has passed away now but i dont know anything about where my childs money is. How can i track it down?
Shorty
- 25-Oct-17 @ 4:43 AM