What is a Living Trust?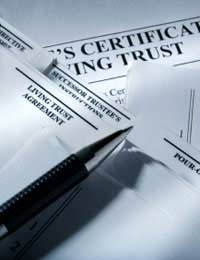 A living trust is one of the means by which individuals can avoid the difficult process of probate. While living trusts can be highly effective for this purpose, however, they have a number of other potential uses. But what is a living trust?
It may be useful to first define trusts generally. Briefly, a trust is a legal arrangement by which it is agreed that legal ownership of certain assets will be transferred from the settlor (that is, the individual who is establishing the trust) to the trust itself. These assets will then be controlled by the trustees, for the benefit of a third party, known as the beneficiary.
Inter Vivos and Testamentary
Living trusts are more accurately termed 'inter vivos' trusts – literally, 'among living beings'. Most simply, they can be seen as the legal opposite to testamentary trusts, which are not fully constituted until after the death of the settlor. Thus, a living trust is constituted during the lifetime of the settlor, and also comes into effect within this period.
Anyone can establish a living trust, as long as they have assets to transfer into it. One of the most fundamental concerns many individuals have about living trusts is that they will be required to give up the legal title to the assets in question. While this is indeed the case, it is still possible to derive the benefit from, and use of, these assets. To all intents and purposes, therefore, the assets will still be yours.
Furthermore, it is perfectly possible for the same person to be named settlor, beneficiary and trustee. In this case, while the assets will be legally owned by the trust itself, the settlor not only derives the benefit from them, they also have total control over their disbursement within the boundaries established by the trust documents.
Probate
As has been mentioned, living trusts are most commonly used as a form of inheritance planning. Assets placed in trust will not be subject to the process of probate, which can be time-consuming and expensive. It is possible to make provision in a living will for the trusteeship and role of beneficiary to pass to another individual upon the death of the settlor; as a result, the assets will pass straight to the intended recipient without the need for probate or administration.
Living trusts can, however, be used for a number of other purposes. Building on the concept of successor trustees, as used in probate avoidance, living trusts can be constituted that make provision for the responsibilities of trusteeship to be passed to another individual in the event that the settlor (if this is the same person as the original trustee) is incapacitated.
This is similar to the concept of a living will, and can be useful in offering peace of mind to those who are concerned that their assets should be dealt with correctly in the event that they became unable to do so themselves.
Living trusts can be a complicated area, and legal advice should always be sought before attempting to constitute one. Further information on specific areas concerning living trusts is available elsewhere in this section.
You might also like...
:) I am a trustee and beneficiary of my fathers house with my 2 brothers. Since the trust was set up my 2 brothers have stopped talking to me. Initially they rented out my fathers out to a family member and the reduced rate rent was to go towards my fathers care. I was not privvy to this nor was my objections to reduced rate rent listened to. About 10 months ago my father died. The tenant wasstill in the house and I presume should have still been paying rent (as I did not agree to this stopping) however, as a beneficiary I have not seen any of this rent money, either before or after my Dad died -( as an aside the paper trail of the rent money going into his account when he was alive stopped after the first 5 months of the relative moving in- because of the vitriole between myself and my brothers i did not pursue this at the time. The relative moved out in September to buy their own property. Yesterday I received a red council tax bill in my name only and after calling the tax office they said that all trustees would have received this. I do not have the 700 to pay for the council taxand so willing to go to court as I have received nothing from the rental of this property since my Dad died and i have not been consulted about anything regarding the property except to tell me it is up for sale about 3 weeks ago. Can anybody please offer me some advice
QuestionsQuestions
- 19-Oct-17 @ 10:49 PM
Mazza - Your Question:
How can you find out who are the trustees for a Living Trust? My brother set one up before he died, the beneficiaries being his wife and our mother. Unfortunately Mum received nothing from the trust. I recall he mentioned he was investing his money (he had no property) with St james Place. But they cannot find the trust without a number and my sister in law is unwilling to divulge this information. Any help would be appreciated.Thank you
---
Our Response:
If your sister in law will not divulge the information and you are a beneficiary, then you may have to take legal action in order to get herto release the relevant information.
EstatesOrTrusts
- 22-Aug-17 @ 10:41 AM
How can you find out who are the trustees for a Living Trust?My brother set one up before he died, the beneficiaries being his wife and our mother.Unfortunately Mum received nothing from the trust.I recall he mentioned he was investing his money (he had no property) with St james Place.But they cannot find the trust without a number and my sister in law is unwilling to divulge this information.Any help would be appreciated. Thank you
Mazza
- 19-Aug-17 @ 1:54 PM