What Do I Do After Someone's Death?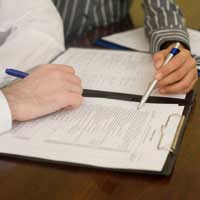 Bereavement is a very difficult experience. During the period immediately following a death, the 'paperwork' tasks can seem trivial and unimportant.
Sadly, though, you may have a range of responsibilities following the death of an individual to whom you were close – particularly if that person was your spouse or civil partner. Some of these tasks need to be completed very soon after the death.
Find the documentation
There is a range of information and documentation that you might require before starting. You should gather as much of this as you can before you start, in order to save time later.
You are particularly likely to require the deceased person's National Insurance number, and their NHS number. You will also need to know their date and place of birth and, if they were married or in a civil partnership, the date and place of their marriage or civil partnership. Finally, you should try to find their tax reference number, which will be printed on a range of correspondence from HM Revenue and Customs.
Immediate steps
Some tasks need to be completed within five days of an individual's death. To begin with, you need to register the death at the nearest register office. You can find details of the relevant office on the DirectGov website. You also need to notify the individual's GP. If the individual was in receipt of benefits or tax credits, you also need to tell the relevant offices. The Department for Work and Pensions can help you with this. Finally, if the individual was self-employed you also need to inform the National Insurance Contributions Office.
It is worth remembering that the relevant hospital or doctor may well be able to help you complete the tasks that require your immediate attention.
After that...
After you have completed the urgent tasks, there is a range of other organisations you may need to contact. These include the deceased individual's employer, and their solicitor and accountant. If they had a driver's licence you will need to contact the DVLA to have it returned, and you should call the UK Identity and Passport Service to have their passport cancelled. You should also contact the individual's local authority to cancel their Council Tax payments. Finally, where applicable you should make sure that you contact the Child Benefit office within a maximum of eight weeks of the death.
Benefits
If you were the spouse or civil partner of the deceased individual, you may be entitled to some benefits. These include the Bereavement Payment, Bereavement Allowance, Funeral Payment and Widowed Parent's Allowance. Some benefits are one-off, while others are paid on a weekly basis.
Additionally, your local Jobcentre Plus should be able to help you determine which payments you are entitled to.
Finally, it is worth noting that there is a general recognition that the period following a bereavement is a very difficult one. As such, there is help available from organisations like the Citizens Advice Bureau, who will be able to assist you throughout the process.
You might also like...